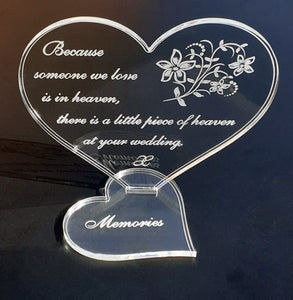 A missing wedding guest - memorial heart with floral design & heart shape base
Regular price £12.97 Sale
A beautifully engraved heart and stand with a floral design and verse.
Quote in image is for advertisement only - Actual quote that will be on the heart is
"Because someone we love is in heaven, there is a little piece of heaven at our wedding"
The base has "Memories" engraved into it.
Professionally designed then produced on state of the art laser machinery for top quality accuracy
---------------------------------

These items are made from 30 year discolouring 5 mm clear safety glass (clear acryic)

These items come complete with the engraved base with the message "Memories" engraved into

----------------------------------

These elegant heart shape memorials are made to sit at a place at
your wedding table and act as a reminder that that loved person that has passed away, has a place there with yous to celebrate your day.

Dimensions of these items are 140mm wide by 130mm high approx.
If you would like something else engraved into the heart, please let me know.